And the winner is…'Een timmer timmert, een tandarts boort … maar wij zitten lekker in Velsen Noord' van aannemersbedrijf Braak Velsen!
Tussen 8 en 14 december brachten maar liefst 2080 mensen hun stem uit op de tien genomineerde slogans op de website www.sloganverkiezing.nl .
De slogan van aannemersbedrijf Braak kwam met 28% van de 3286 stemmen als slechtste uit de bus.
Hij ontvangt de Blauwe Tegel voor de Slechtste Slogan van 2014.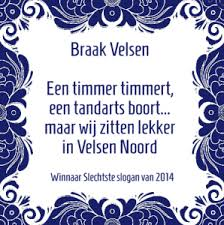 Eigenaar Leon Braak is bijzonder blij met de verkiezing. Hij reageert o.a. op RTV Noord-Holland en vertelt over de totstandkoming van de slogan: "De inspiratie kwam op een zondagochtend in bed. Ik had een bord van meters lang en moest daar wat mee…Daarbij kwam dat we Velsen- Noord graag positief op de kaart wilden zetten. Een creatief moment met mijn vrouw leverde uiteindelijk deze slechtste – of juist beste – slogan op!" Al bijna 10 jaar trekt de leus de aandacht. Juist door de eenvoud en de humor kennen veel mensen hem uit 't hoofd. "Mij wordt zelfs vaak gevraagd welk reclamebureau ik hiervoor heb ingeschakeld!" Tot slot: "Iedereen bedankt voor het stemmen en nu…. weer gewoon aan het werk!"
Braak Velsen bij RTV NH